TV Frames:




Discover the Perfect Design

for Your Television
Discover Reflectel's 35 years of expertise in designing elegant TV frames. Our collection boasts over 500 stunning designs, ranging from opulent Gilded Series to contemporary Metal, Wood, and Leather sets. We can also match any color per your preference, including those from popular brands like Benjamin Moore.
​
Visit our Custom Build page to explore personalized options. Whether you need a sound-bar, side speakers, or any other feature, we can customize it. Our frames are made in the USA and transform your TV into a magnificent piece that elevates the décor of your room. Remember to check out our Samsung Frames page for specialized designs that blend style and innovation.
Discover the perfect design for your television and transform your space into a masterpiece of art and technology.
WHY WORK WITH REFLECTEL FOR YOUR TV FRAME NEEDS?
Situated in the vibrant heart of NYC, Reflectel is synonymous with artisanal mastery. Every frame, handcrafted by our passionate local craftsmen, is a unique piece tailored to your specifications.
Our frames are a tribute to the skilled craftsmanship of NYC's artisans. Far from being mass-produced, each piece is handcrafted precisely, reflecting your distinct vision.
Your furniture's aesthetic is unique. With over 35 years of legacy, we excel in crafting frames that harmonize with your space, creating a cohesive ambiance.
Ensure your TV seamlessly blends with your interior. Our three-decade expertise delivers meticulously crafted frames that echo the essence and detail of your furniture.
Find The Perfect TV Frame.
Collaborate with Reflectel to turn your TV frame into a masterpiece. Our expert artisans will work with you every step of the way to bring your unique vision to life.
Explore our Artisanal collection, where custom comes to life through expert craftsmanship. Here, your Television transforms into personalized art. Notably, artisan Allison Eden stands out for her vibrant designs. With personalized passion, your creative ideas become a reality, guaranteeing a TV frame that's genuinely yours. Dive into the Artisanal collection for the ultimate mix of artistry and customization.
Step into the world of classic beauty with our Gilded Series. These are influenced by historical periods, blending luxury and style. Each piece connects history with craftsmanship by echoing designs from the Italian Renaissance to the 18th-19th Century Spain. The detailed carvings and shiny gold are a result of an age-old gilding method, which uses delicate gold leaf layers for a radiant look. This artful approach makes these frames an ideal choice for both designers and home enthusiasts. Explore the Gilded Series and select one that resonates with your appreciation of timeless elegance.
Step 3 Choos TV Brand Model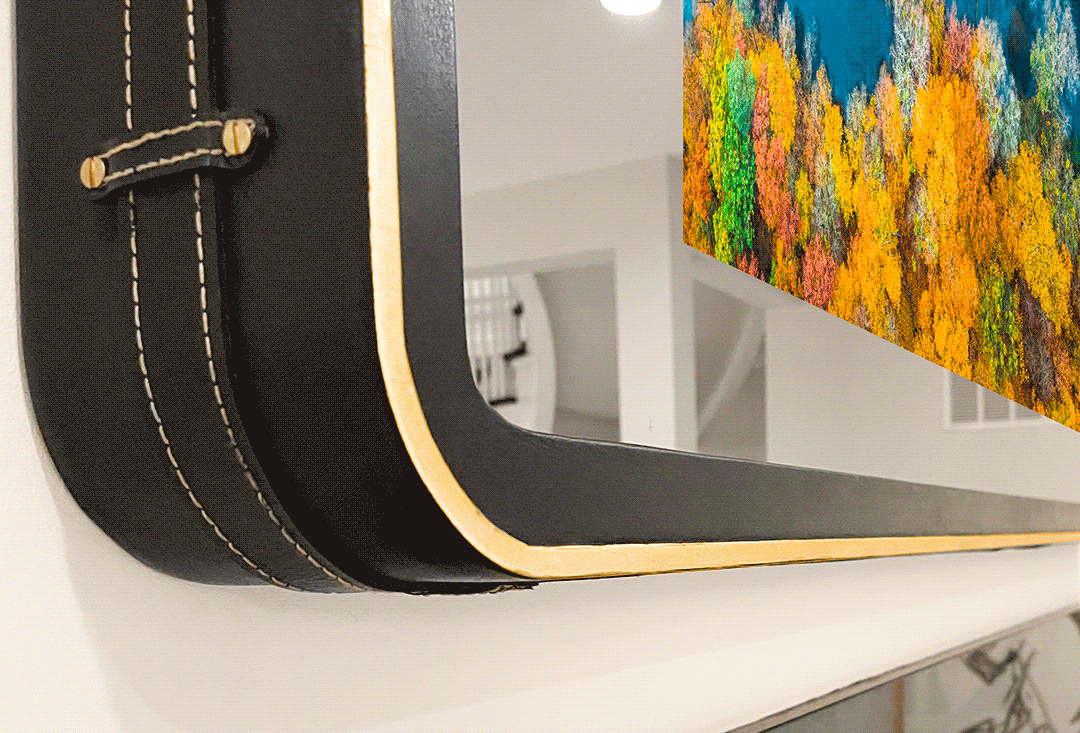 Experience the elegance of Reflectel's leather frames, which are available in a variety of colors and made from either natural or imitation leather. The meticulous hand-stitching, using matching or contrasting thread, adds to the exquisite craftsmanship. For a bold statement, take a look at our inspired designs by Ferrari. Whether you prefer the timeless appeal of leather or the contemporary feel of faux leather, our designs will elevate the appearance of your TV.
Explore the sleek style of Reflectel's metal frames. Choose from options like shiny or matte aluminum, gunmetal, traditional bronze, or rough bolted steel, each offering a distinct look. Known for their modern vibe, these fit perfectly in current or simple spaces. Whether you like the clean lines of shiny aluminum or the rugged appeal of bolted steel, our metal trim will make your TV a standout feature, mixing use and fashion.
Discover the warm and inviting appeal of Reflectel's wooden TV frames. Each one boasts a unique beauty and texture, with a range of options to choose from including maple, ash, oak, and other exotic woods. Whether you prefer the timeless elegance of mahogany or the enduring beauty of walnut, our wooden frames are meticulously crafted to complement your television's style. Designers appreciate how well these frames integrate with various room decors. Whether you prefer the vibrant touch of ash or the bold, luxurious look of oak, Reflectel transforms your TV into a symbol of refined taste in any setting.
Discover the perfect combination of affordability and skill with Reflectel's Signature Series. This exclusive range offers a selection of pre-made TV frames, each precisely tailored and assembled in our Tribeca NYC workshops. The Signature Series provides excellent value without sacrificing quality. The Signature Series is an excellent choice for customers who desire Reflectel's renowned craftsmanship and quality at an affordable price.
These TVs are well-known for displaying your favorite art pieces, and when paired with our carefully crafted frames, they create a seamless and striking visual display. Our designs are perfectly suited to the Samsung Frame's sleek aesthetic, adding a personal touch that transforms your screen from a tech device to a stunning centerpiece. Whether you prefer classic art or cherished photos, we can elevate your television and create an eye-catching focal point. With Reflectel, you can easily switch between TV mode and artwork mode, creating a harmonious and stylish look that complements your home's style.
Reflectel creates a harmonious visual experience in your space by ensuring your TV frame complements its surroundings. One of our specialties is color-matching to your furniture or room. Whether you're looking to coordinate with your wall color, including any shade from renowned brands like Benjamin Moore, or seeking a finish that mirrors the style and hue of your furniture, Reflectel is adept at achieving an impeccable match. Our commitment is to integrate your television seamlessly into your space, enhancing the aesthetic unity and creating a cohesive design flow. With Reflectel, your television becomes an extension of your style and décor, not just a standalone piece.
Our Simple 7 Step Guide to Framing Your TV
Looking to start your journey with Reflectel? We have made it easy for you with a step-by-step guide to ensure that you get the perfect fit for your screen and the frame that you choose. Here's what you need to do:
1. Know Your Screen Size: You can find your model number, which typically shows the screen size, or measure the diagonal length of your screen from one corner to the opposite, including the bezel (the trim around the screen).
2. Discover Our Range: We offer a wide selection of styles to choose from, including gilded and leather, metal, wood, and our signature series.
3. Make It Yours: For a unique design, talk to our team and create a frame that is uniquely yours. We are here to make your idea a reality.
4. Share Your Mounting Style: Let us know if your screen will be recessed in the wall or on it. This will help us to customize the frame for your specific needs.
5. Pick the Frame Thickness: Share your choice for frame thickness. Whether you prefer it thin and modern or thick and prominent, we will create it for you.
6. Add Accessories: If you're including a soundbar, side speakers, or other extras, let us know. We'll incorporate them into your design seamlessly. You can find more information on our build page.
7. Creation and Delivery: With the details in hand, we will carefully create your frame and send it to you, ready to enhance your viewing experience.
Our priority is your happiness at every step. With Reflectel, upgrading your setup is simple and results in a beautiful mix of technology and craftsmanship that enhances your room.
Television Frames For Every Vision
​We appreciate your time exploring our vast collections and learning what Reflectel truly provides. Our mission extends beyond just framing your screen; we aim to transform your space into a reflection of your unique style. Your journey starts now, and we're excited to be part of it. Whether you're ready to choose or need more help, our team is here for you. Your dream, combined with our expertise, will create a lasting work of art. Trusting Reflectel's 35 years of craftsmanship is your first step in turning your screen into a piece of art. Thanks for stopping by, and we look forward to the chance to work with you.