ALL ABOUT SAMSUNG FRAME TV FRAMES
Elevate Your Viewing Experience with Reflectel's Custom Frames for Samsung Frame TV
Transform your Samsung Frame TV into a captivating centerpiece with one of Reflectel's custom television frames. Our meticulously crafted frames, available in wood, leather, gilded, metal, and our Signature Series, offer a seamless blend of technology and artistry, elevating your space to new heights of style and sophistication.

Unmatched Craftsmanship:
Reflectel's legacy of over 30 years in framing expertise, inherited from our partnership with GK Framing, shines through in every frame we create. Handcrafted by skilled artisans in NYC, each piece is a testament to precision and attention to detail, setting a benchmark in the industry.

Eco-Friendly Excellence:
Our commitment to environmental sustainability is unwavering. The wood used in our frames is responsibly featuring luxurious yet eco-friendly materials like Cherry, Mahogany, Specialty and others.

Seamless Integration:
Designed to blend effortlessly with your Samsung Frame TV, our custom solutions enhance its visual appeal while ensuring a perfect fit.

Explore Your Style:
You can browse over 500 frames to discover the perfect one that resonates with your style or custom build your own. Whether your taste leans towards classic grandeur or contemporary finesse, our solutions for Samsung Frame TV frames offer the perfect blend of form, function, and artistry.
Elevate your Samsung Frame TV to an enchanting realm of captivating masterpieces through Reflectel's extraordinary custom framing solutions.
Unleash Your Style:




Elevate Your Samsung The Frame with Custom Framing Solutions
Discover Reflectel's world of bespoke framing solutions tailored to your Samsung The Frame TV. At Reflectel, we offer a plethora of styles and finishes, allowing you to express your unique aesthetic and enhance the ambiance of your space. Our frames are more than just a decorative accessory; they are a statement of elegance, each meticulously crafted to complement your interior design.

Variety of Styles:
Whether you prefer the sleek lines of modern design or the ornate detailing of traditional craftsmanship, our collection caters to a diverse range of design sensibilities. Explore our Gilded, Leather, Metal, Wood, and Signature Series frames to find the perfect match for your style.

Custom Finishes:
Our custom finishes are designed to seamlessly integrate with your existing décor, adding a touch of sophistication to your Samsung The Frame TV.

Furniture Matched:
Looking to create a harmonious look throughout your space? We offer furniture-matching services to ensure your new frame perfectly aligns with your existing furniture, creating a cohesive and elegant ambiance.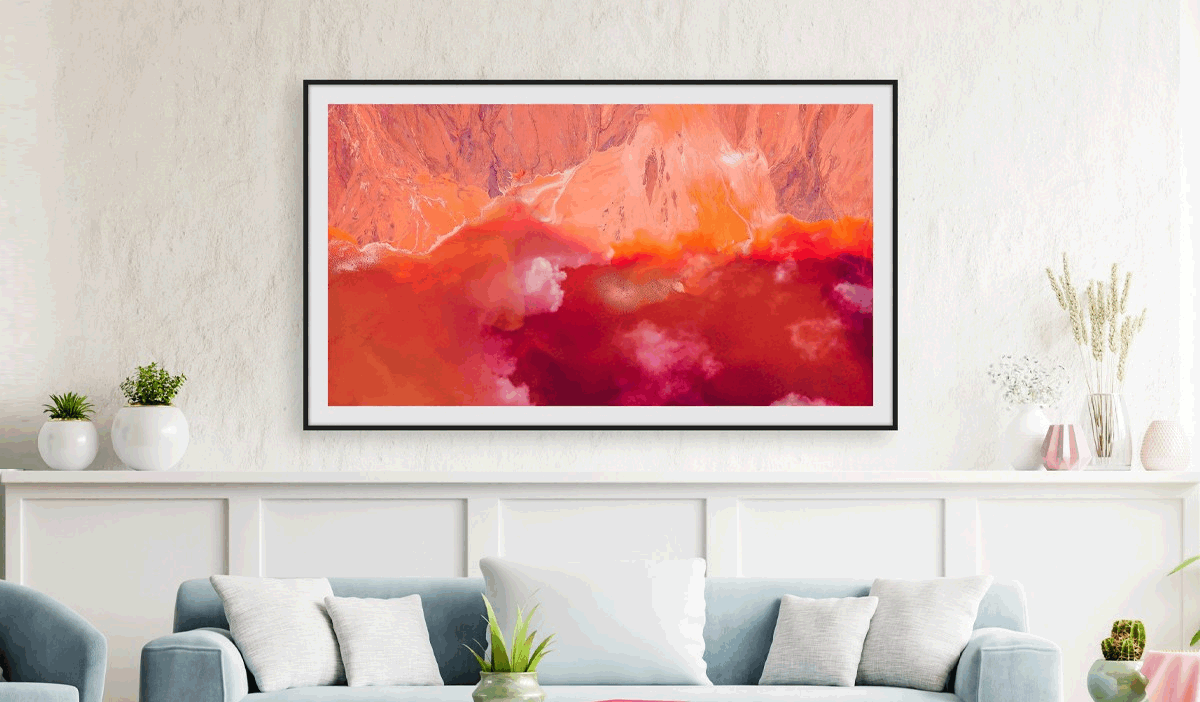 The Reflectel Difference:




Elevating Samsung The Frame with Exceptional C

ustom Framing Solutions
At Reflectel, we believe in transcending the ordinary to deliver an unparalleled framing experience for your Samsung The Frame TV. Our journey spans over three decades of relentless pursuit of perfection, culminating in the creation of exquisite frames that are much more than mere accessories. They are a testament to our unwavering commitment to quality, innovation, and customer satisfaction.

Expert Craftsmanship:
Our frames are handcrafted by skilled artisans in NYC, each piece reflecting a blend of traditional craftsmanship and modern aesthetics. The meticulous attention to detail ensures that every frame is a masterpiece, embodying the pinnacle of quality and design.

Customer-Centric Approach:
Your satisfaction is at the core of our operations. We listen to your unique preferences to deliver custom framing solutions that not only enhance the aesthetics of your Samsung Frame TV but also resonate with your personal style.

Superior Quality:
Utilizing premium materials, we ensure that every frame stands the test of time, adding a touch of elegance and sophistication to your space. Our frames don't only look good; they are built to last, offering enduring value.

Transformative Experience:
The transformative power of our custom solutions go beyond aesthetics. It's about creating a captivating focal point in your living space, turning your television into a mesmerizing centerpiece that seamlessly enhances your interior décor.

Engage with Reflectel and experience the difference of exceptional craftsmanship, personalized service, and the transformative power of custom framing.
What is the Samsung Frame TV?
The Samsung Frame TV is a blend of art and technology, designed to enhance your living space aesthetically and functionally. One of its key features is the One Connect Box, a sleek, compact unit that houses all the necessary connections and cables required to operate your TV. This innovative design allows for a clutter-free setup, ensuring all wires and connections are consolidated into a single, manageable box.
Here's a detailed breakdown of the Samsung Frame TV features, specifications, and the importance of planning for the One Connect Box installation:

Samsung Frame TV Features:
Art Mode: Transform your TV into a piece of art when it's off, displaying stunning artwork or your cherished photos.

Customizable Frames: Choose from a variety of frame styles and colors to match your decor.

4K QLED Screen: Experience superior picture quality with over a billion shades of color.

Smart TV Features: Access a range of apps, voice control features, and streaming services for an enhanced viewing experience.

Samsung Frame TV Specifications:
Resolution: 4K UHD (3840 x 2160)

HDR: Quantum HDR 4x

Processor: Quantum Processor 4K

Sound Output: 40W

Connectivity: Wi-Fi, Bluetooth, HDMI, USB, Ethernet

Samsung One Connect Box:
The One Connect Box is a pivotal component of your Samsung Frame TV setup. It acts as a hub, allowing you to connect various devices like satellite boxes, gaming consoles, and Blu-ray players without having a tangle of wires hanging from your TV. This is especially crucial for maintaining the aesthetic appeal of your Samsung Frame TV, which doubles as a piece of art.

Planning for Installation:
Proper planning for the installation of the One Connect Box is essential to ensure a clean, wire-free setup. The box needs to be placed in a location where it can easily connect to all your devices while remaining hidden from view. The One Connect Box can not be concealed directly behind the TV glass or frame due to its size, if you would like this option please speak to one of our artisans.

Reflectel's Support:
At Reflectel, we provide expert installation support to ensure the seamless integration of the One Connect Box with your setup. Our team of skilled installers will assist you in finding the optimal placement for the One Connect Box, ensuring all cables are neatly managed and hidden from view.
Frequently Asked Questions:




Your Guide to Samsung Frame TV Custom Frames
Embarking on the journey of enhancing your Samsung Frame TV with a custom frame is an exciting endeavor. Here, we've compiled a list of frequently asked questions to provide clarity on the customization process and the unique features of Samsung Frame TV frames offered by Reflectel.
What is a Mirror TV?

A hidden mirror TV is a television that is seamlessly concealed behind a two-way mirror when not in use.

Are Mirror TVs Any Good?

Absolutely, but the quality largely depends on the TV manufacturer and the type of glass used. Reflectel has extensive expertise in identifying the best combinations for each specific application, ensuring top-notch quality and performance in our Mirror TVs.

How does a hidden mirror TV work?

By using a specialized glass called Mirror TV glass, which allows the TV to be hidden behind a reflective surface while still providing a clear view when the TV is turned on. You can learn more about how it works here.

Can I use any TV as a Mirror TV?

Absolutely! At Reflectel, we have the expertise to accommodate TVs from any manufacturer. We'll guide you in selecting the best glass option to suit the specific application and characteristics of your space, ensuring your TV seamlessly transforms into a hidden mirror TV.

Can I customize the frame of my hidden mirror TV?

Yes, Reflectel offers a wide variety of custom TV frame options to match your personal style and home décor. From sleek and modern to ornate and traditional, there is a frame design to suit every taste.

What Mounts Should Be Used for Mirror TVs?

The choice of mount for a Mirror TV varies based on the model and where it will be installed. The cleat mount is a popular option, but we also provide assistance with tilt mounts, recessed installations, and even motorized solutions to meet your specific needs. You can learn more on our installation page.

What Are the Size Options for Mirror TVs?

At Reflectel, we pride ourselves on offering a diverse selection of sizes and shapes for Mirror TVs. Whether you have specific space requirements or unique preferences, our range caters to all needs. Explore our shapes page to discover the sizes available for each shape. And remember, we can customize any size to fit your vision perfectly.

Can I control my hidden mirror TV with a remote?

Yes, hidden mirror TVs can be controlled using a remote control, just like any other television. Reflectel also offers additional control options, including integration with home automation systems and voice control.

What Are the Most Common Applications of Mirror TVs?

Mirror TVs are versatile and can be found enhancing various spaces, including bathrooms, living rooms, bedrooms, and commercial areas such as hotels and salons. Their adaptability makes them a popular choice for both residential and business environments.

Can I update the TV of my hidden mirror TV in the future?

Reflectel understands that technology evolves, and we offer upgrade options to keep your hidden mirror TV up to date with the latest advancements in audiovisual technology.

How do I clean the mirror surface of my hidden mirror TV?

To clean the mirror surface, simply use a soft, lint-free cloth and a mild glass cleaner. Gently wipe the surface in a circular motion to remove any smudges or fingerprints, ensuring a clear reflection for both the mirror and the TV. You can learn more on our maintenance and care page.

Do Mirror TVs Have Built-in Speakers?

While the standard setup includes sound from the factory speakers, Reflectel takes customization a step further. We can integrate sound bars and other speaker systems directly into your frame for a truly bespoke build, enhancing both the visual and auditory experience. Check out our TV Frame Build page for more custom options.

Will a Bathroom Environment Fog Up a Mirror TV?

Our Mirror TVs are designed with special spa glass that resists fogging, making them ideal for humid environments like bathrooms. This feature ensures clear visibility and functionality, even in steamy conditions. Learn more about Spa Glass.
Explore Our Other Frame Collections
Discover the diverse range of frame options available at Reflectel. From the warmth and elegance of our wood frames to the sophistication of our leather, metal, gilded, and signature series, each collection offers a unique aesthetic to complement your Mirror TV. Browse through our stunning gallery and find the perfect frame to elevate your space and create a captivating focal point. Experience the artistry and craftsmanship that sets Reflectel apart and choose the frame that reflects your personal style and taste.
WHY WORK WITH REFLECTEL FOR YOUR CUSTOM TV FRAME NEEDS?
Our custom Samsung Frame TV frames extend beyond mere encasements ; they embody artistry that enriches your living space with an aura of elegance.
Crafted in New York City, our frames are the antithesis of mass production. Our artisans, with a blend of passion and expertise, meticulously handcraft each piece to your precise specifications.
The wood used in crafting our frames is responsibly sourced, and the finishes are derived from eco-friendly materials, reflecting our dedication to sustainability without compromising on luxury.
Select from a diverse palette of styles - Gilded, Leather, Metal, Wood, and Signature. Experience the harmonious blend of art and tech, as we offer custom frames that are as unique as your taste.
Looking to have your frame match your furniture? No problem! Leveraging over three decades of expertise, we are proficient at crafting frames with an unparalleled likeness to your furniture.