Elevate Your Samsung Frame TV
With Reflectel's Custom Frames
Transform your Samsung Frame TV into a mesmerizing work of art with Reflectel's custom framing options. Experience the unmatched craftsmanship and customization of our wood, leather, gilded, metal, and Signature Series frames. Elevate your Mirror TV to new heights of style and sophistication. Discover the perfect fusion of technology, design, and artistry as your TV becomes a captivating centerpiece in your home entertainment setup. Explore our collection and find the perfect frame to seamlessly integrate your Samsung Frame TV into your space as a stunning work of art.
Elevate your Samsung Frame TV to an enchanting realm of captivating masterpieces through Reflectel's extraordinary custom framing solutions.
WHY WORK WITH REFLECTEL FOR YOUR CUSTOM TV FRAME NEEDS?
Reflectel's Frames are more than just a housing for your Samsung The Frame TV - they are a piece of art that adds a touch of elegance to your home. Experience the difference today.
Our frames are not mass-produced. They are handcrafted right here in NYC, by local artisans who pour their passion and expertise into each piece. Every frame is truly unique and built to your specs.
Every frame we craft uses wood that's been responsibly sourced, with a finish created from eco-friendly materials. We are dedication towards environmental sustainability and conserving our natural resources.
Elevate with Exquisite Frames. Choose from a Variety of Styles - Gilded, Leather, Metal, Wood, and Signature. Experience the Perfect Fusion of Art and Technology with Reflectel's Custom Frames.
Looking to have your frame match your furniture? No problem! Leveraging over three decades of expertise, we are proficient at crafting frames with unparalleled accuracy and likeness to your furniture.
Unleash Your Style:




Elevate Your Samsung The Frame with Custom Framing Solutions
Unlock the potential of your Samsung The Frame with Reflectel's custom framing solutions. Express your unique style and create a statement piece that elevates your space. Our custom frames seamlessly integrate with your interior design, adding depth, character, and a touch of elegance. With a wide range of options, from sleek and contemporary to traditional and ornate, Reflectel caters to your specific preferences. Experience the transformative power of custom framing and turn your Samsung The Frame into a captivating centerpiece that showcases your individuality and enhances the ambiance of your space.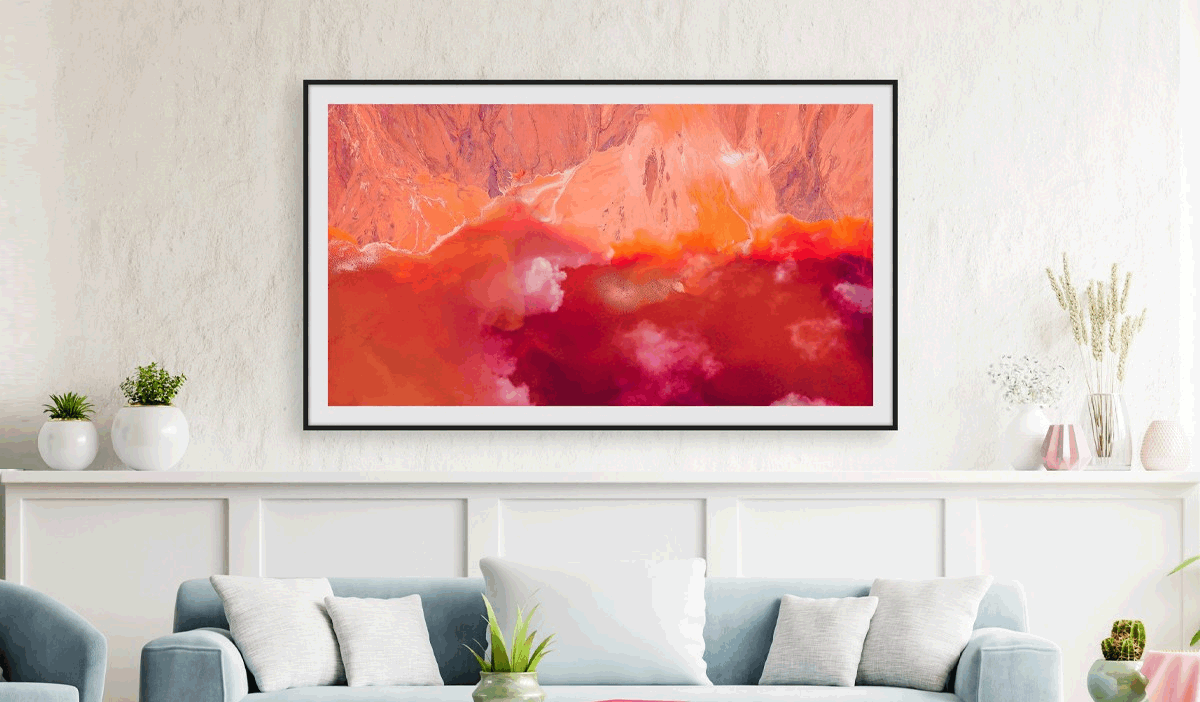 The Reflectel Difference:




Elevating Samsung The Frame with Exceptional Custom Framing Solutions
​At Reflectel, we pride ourselves on being more than just a framing provider. With decades of experience in the field, our expertise and dedication to customer satisfaction set us apart from the rest. When it comes to custom framing solutions for Samsung The Frame, Reflectel offers exceptional value and superior quality. We understand the importance of creating a frame that not only enhances the aesthetics of your TV but also complements your unique style and preferences. Our commitment to craftsmanship and attention to detail ensure that each custom frame we create is a true work of art. Trust Reflectel to deliver the perfect framing solution that elevates your Samsung The Frame to new heights of beauty and transforms it into a mesmerizing centerpiece in your space.
What is the Samsung one connect box?
The One Connect Box is an essential component that comes with select Samsung TV models like The Frame or Odyssey. It acts as a receiver, allowing you to connect various media devices such as satellite boxes or video game systems without the hassle of unsightly wires dangling from behind your TV. However, it's important to note that the One Connect Box cannot be concealed directly behind Reflectel's mirror TV glass or frame. Due to its unique functionality and connectivity requirements, it needs to be remotely located and properly installed by an experienced professional to ensure optimal performance and aesthetics. Our team of skilled installers can assist you in finding the best placement for the One Connect Box, seamlessly integrating it with your Reflectel Mirror TV setup. Say goodbye to visible wires and enjoy a clean, clutter-free entertainment experience.
Explore Our Other Frame Collections
Discover the diverse range of frame options available at Reflectel. From the warmth and elegance of our wood frames to the sophistication of our leather, metal, gilded, and signature series, each collection offers a unique aesthetic to complement your Mirror TV. Browse through our stunning gallery and find the perfect frame to elevate your space and create a captivating focal point. Experience the artistry and craftsmanship that sets Reflectel apart and choose the frame that reflects your personal style and taste.